A Smarter Telecom Industry with
Intelligent Contracts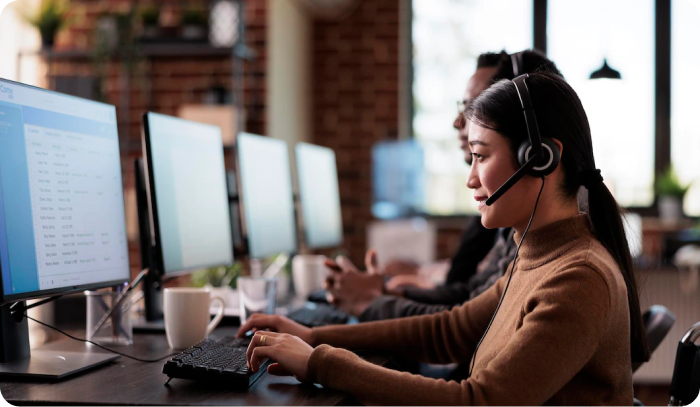 A Step Towards Emerging Technologies
Ernst and Young's Global Telecommunications Survey 2019 attributes disruptive competition as the single biggest telecom industry strategic challenge. Telcos are taking initiatives in digital transformation to tackle various challenges, including ROI concerns, the uncertainty of the regulatory environment, lack of organizational ability, and poor rates of innovations. The survey results showing an 82% YOY growth in automation initiatives across developed and emerging markets in 2018 is testimony to this.
5G, AI, and automation are critical digital transformation drivers. With 5G being at the forefront, the three technologies will work in tandem to deliver innovative digital services and superior customer experiences and significantly overhaul back-office operations in the years to come.
Early reservations to use these technologies have become forward-looking confidence to adopt them, which shows the change in attitude across the industry. The telcos' digital transformation journey includes the automation of workflows using these technologies alongside the use of human resources to add value to their operations. Combining these would increase revenue generation and improve customer experience.
Need for an Automated Contract Lifecycle Management (CLM) System
Telcos handle thousands of contracts yearly. Ideally, telcos aspire to have a sophisticated CLM program but fall short due to decentralized contract processes, lack of standardization and visibility, and security issues. Moreover, the contract process is spread across the organization and is handled by the procurement, project management, supply chain, legal, and finance teams. Contract management in telcos is practiced ad hoc/silo, which leads to miscommunication, an increase in complexity, and a wastage of time.
AI and automation can aid in centralizing contract processing, simplifying the contract lifecycle, shortening timelines, and improving accuracy and compliance. A centralized storage repository helps in better visibility to stakeholders, providing faster and deeper search capabilities, tracking milestones, triggering automatic renewals, flagging-off invoice discrepancies, and adherence to standardized contractual terms leading to closer monitoring of SLA breaches, if any. Furthermore, AI can validate intermittent supplier artifacts, interpret site drawings, identify contract formats, ingest specific contract clauses, evaluate SLAs against specific clauses, and summarize all the contract clauses. Analytics can help track spending and projections of the company. AI and automation can prove to be a game-changer for contract lifecycle management, thus positively impacting the telecom industry.
Types of Telco Contracts
Telcos manage two types of contracts—buy-side and sell-side contracts.
Buy-side contracts include vendors supplying goods and services and commissioning/upgrading network site services. It also includes tower companies/carriers who share infrastructure, lessors who provide real estate, software providers, system integrators, and supply chain players, to name a few. Each of these contracts specifies terms of protocol, update of systems, validation of invoices, handling of payments in SAP, tracking clauses and SLAs, and more. Contracts of such length and volume involve a significant amount of manual work, which is detrimental to the overall productivity of the telco.
For example, invoice validation against contract rate cards is a long, tedious, and error-prone manual exercise. Sifting through several supply chain invoices and the complexity involved in cross-referencing and updating specific workflows demands a substantial workforce that can be optimized using AI and automation.
On the other hand, sell-side contracts include enterprise customers, partners, carriers, and others. A telco with a large number of enterprise customers who are particular about the levels of Quality of Service offered will not hesitate to penalize the company in case of an SLA breach. These penalties are expensive and hurt the telco. Thus, monitoring the QoS levels of various enterprise services is important.
Perils of a Traditional CLM System
The problems faced by a traditional contract management system are:

Lack of a comprehensive, centralized contract system for all stakeholders
Several teams resort to spreadsheets to track obligations and deliverables
Governance issues and action items are tracked on emails
Dependent on supplier's data on invoice payments without enough auditing
Contract compliances (SLAs) are performed manually
No integration capabilities with existing systems (OSS/BSS/ERP) to support closed-loop automation
No flow-through workflows to facilitate tracking and closure of obligations

Benefits of an Automated CLM System

AI and automation can bring about radical changes to contract processing and management. An automated CLM system would improve the productivity of the contract management team by performing the following functions:

Tracking different assets in the network and map contracts against them
Identification of different network cost leakages by integrating with BSS/ERP systems
Invoice validation and bespoke auditing automation
Smart AI-based extraction of clauses and other information from contracts
Clause summarization and document linkages
Understanding QoS levels in real-time by integrating with OSS systems and providing insights on SLA breaches, if any
Risk mitigation via renewal reminders, SLA breach insights and spend analytics
Repository and deep search capabilities
Flexible reporting, dashboarding, and workflow capabilities

The Lifecycle of a Contract

The figure below shows the entire lifecycle of a contract.

STAGE

WHY AN AUTOMATED CLM SYSTEM IS REQUIRED?

WHAT AN AUTOMATED CLM SYSTEM DOES?

Contract Drafting

Organizations must follow templates and obligation guidelines while the contracts are being drafted.
An advanced CLM system based on templates ensures that the stakeholders use the right clauses, SLAs, and other obligations.

Clause library

Templates section

Drafting workflows

Meta data capture

Easy drag/drop UI

Clause edits

Approvals

E-signatories

Contract Management

Once the contracts are signed between parties, the granular contract information needs to be stored in a structured manner and made visible to stakeholders with appropriate access controls. Contract information may be extracted from the files in many cases.

An advanced CLM system provides contract administration and closed-loop automation with the ERP system.

AI/ML-based contract extraction (with human in-loop)

Clause identification and summary capabilities

Hierarchy structure of contracts (MSA – SOW – CR)

File repository and deep-search capabilities

Flexible data model to capture different types of contracts

Integration with ERP systems for closed-loop automation

Commitments and contract lines

Expiry and renewal reminders

Workflows, reports, and dashboards

Contract Performance

After the Procurement Managers set the transactional contract management system in place, strategic initiatives are taken that improve business outcomes.

Invoices audits against contract rates to reduce discrepancies

Automated SLA evaluation against OSS/BSS/ERP systems

Tracks and enforces Service Level Credits

Milestones and renewals

Asset Fault Performance

Risk Management

To identify and track regulatory, liability, indemnity, and insurance risks.

Contract Optimization

Uses analytics to identify risks or lost value from existing contract and suggest necessary changes to the contract language.

In Conclusion

5G is set to create giant waves in the telecom industry. A report from Ericsson predicts that 5G subscriptions will reach 1.9 billion by 2024. Smart contracts provide a faster, cheaper, and more efficient alternative to traditional contracts. Moreover, smart contracts support services offered by the 5G technology, such as user verification, data authentication, and protection against attacks. The global smart contracts market is predicted to be worth US$300 million by the end of 2023 at a CAGR of 32%. The benefits of smart contracts are lucrative enough to bring about a shift in the attitudes of companies all over the world to move away from their traditional counterparts. However, there is a direct relation between the growth of 5G subscriptions and security lapses. The crux of the solution lies in intelligent contracts, an AI-enabled contract that solves the many flaws of smart contracts and is proven through traditional financial systems.